Mercer Lawrenson
The idea for this hike was cooked up by my Dad. He had done the Berg lake trail in his teens and wanted to give us kids the experience. How he roped the Loudens in to joining us I have no idea, but they came and more then doubled our party. The plan was to rendezvous at the bottom, spend the night, hike up the mountain spend three nights at different campgrounds and hike down the forth day.
Sunday
Excitement and bravado was high even in the face of cold weather the night before.
Monday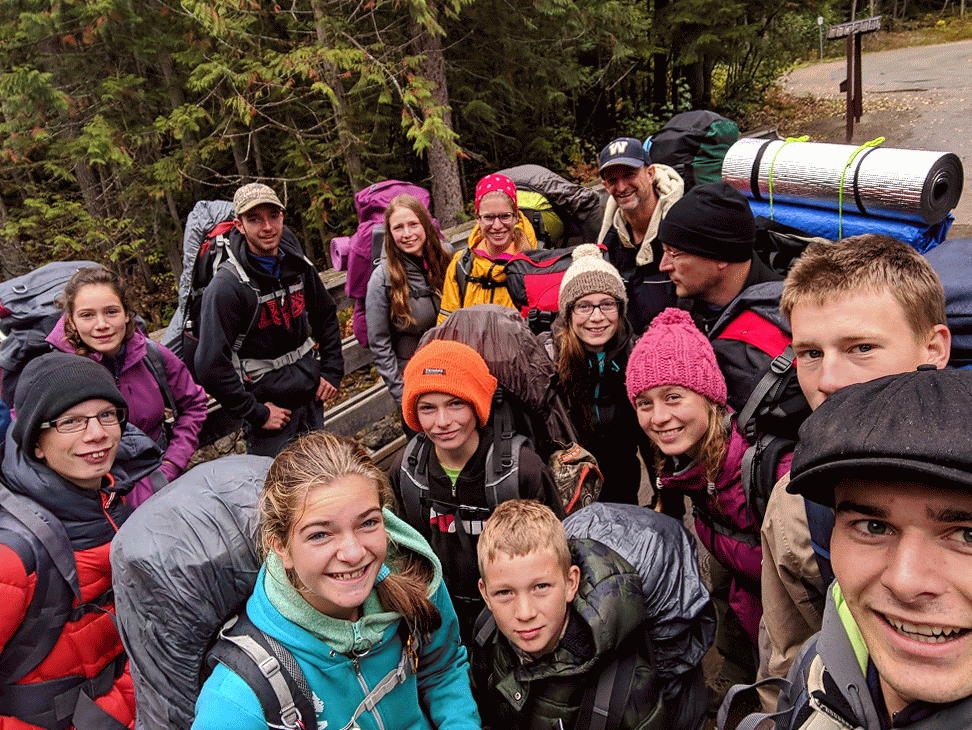 We got up early and hit the trail as soon as we could in a soft drizzle.
These backpack tarps are great. I unfortunately did not have one and my sleeping bag got a bit wet.
Bridge crossing give a chance to catch my breath, and take a selfie ;)
We got to a cloud covered Kinney lake in good time and broke for lunch.
After Kinney lake there where about 5 KM's of up and down/flat terrain.
Then it got steep. And the battle to keep moving, keep happy, and keep time began. The falls though, made it all worth it.
Cold and wet we set up camp, cooked super, made a fire in a can and sang around it.
A couple hours in the dark leads almost certainly to flashlight games.
Tuesday
First order of business in the morning is breakfast.
We caught glimpses of the peak for the first time.
We spent most of the morning enjoying the magnificent Emperor falls.
I just managed to not get my camera soaked.
We sang "Climb every mountain, ford every stream follow every rainbow." And we did it all.
Don't slip.
Phones are a great tool on a camping trip. Gotta check those pics!
For our shorter march on Tuesday us guys loaded up.
We took up a lot of trail space when the 14 of us spread out. Quite the sight that far from civilization.
Berg lake at last!
By mid afternoon we got to the final campground and set up our tents and cooking. With picnic tables and clothes lines, it felt like luxury.
Takis had fun in the stream below our campsite. Cold water can't stop him!
Don't tell anyone, but when it got cold we did light a fire. Then we went to sleep, and it got colder still. It was by far the hardest night.
Coming next week....
What did we do on Wednesday?
Photo credits: Rachelle Louden (the great pictures) and myself for the rest.